Day Zero Diagnostics Wins the New Life Sciences Diagnostic Category at the Annual UCSF Health Awards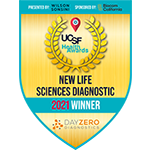 Pioneering a New Class of Culture-free, Sequencing Diagnostics to Help Patients with Severe Infections
BOSTON – October 11, 2021 – Day Zero Diagnostics, Inc., an infectious disease diagnostics company harnessing the power of whole-genome sequencing and machine learning to combat the rise of antibiotic-resistant infections, has been selected from hundreds of companies as the winner of the New Life Sciences Diagnostic category at the 2021 UCSF Health Awards.  The USCF Health Awards is supported by top healthcare accelerators, venture capitalists and academic leaders and honors outstanding health technologies and innovations dramatically transforming healthcare.
Finalists were vetted from 1200 submissions over 17 award categories. Jong Lee, President and CEO, presented the Day Zero technology to a panel of judges including thought leaders and renowned clinicians looking for the next best products that have the potential to define the future of healthcare.
"We are honored to be recognized in the New Life Sciences Diagnostic Category, alongside so many promising companies," said Jong Lee, co-founder and CEO. "The UCSF Health Awards is shaping up to be a platform that promotes excellence across health technologies and provides great insight on the trends driving the future of healthcare".
Day Zero is developing a sequencing-based rapid diagnostic that identifies, within hours, both the species and the antibiotic resistance profile of a bacterial pathogen. Current approaches take 2-5 days to provide similar information, a time delay that is associated with an 8% increase in death per hour for severe infections. This technology will enable hospitals to reduce patient length of stay, the overuse of expensive and often ineffective antibiotics, and most importantly, excess mortality.
The system is designed to enrich and extract bacterial DNA directly from a patient sample for sequencing, without the need for a time-consuming culture. The company's proprietary machine-learning algorithm then analyzes the genomic data to identify the pathogen and determine its antibiotic susceptibility and resistance profile within hours, allowing physicians to confidently and quickly prescribe the most effective antibiotic treatment. The system is designed to allow for the simultaneous testing of a broad range of bacterial species and their antibiotic susceptibility instead of just a handful of species, like current molecular diagnostics.
About Day Zero Diagnostics
Day Zero Diagnostics, Inc., based in Boston, is pioneering a new class of infectious disease diagnostics using whole-genome sequencing and machine learning to revolutionize how the world fights the growing threat of antibiotic resistance. The company's mission is to change the way infectious diseases are diagnosed and treated by rapidly identifying both the species and the antibiotic resistance profile of severe infections without the need for a culture. By using sequencing, Day Zero also enables big data approaches for managing healthcare-associated infection outbreaks. Day Zero Diagnostics was founded in 2016 by a team of clinicians and scientists from Harvard University and Massachusetts General Hospital. The company has been recognized as a leading innovator by CARB-X, MedTech Innovator, TedMed Hive, Xconomy, HealthTech Arkansas, and MassChallenge HealthTech. For more information visit www.dayzerodiagnostics.com or follow us on Twitter at @dayzerodx.